Okay, so you are a great Game of Thrones fan! And so, you are looking for a Game Of Thrones Chess set as a gift to your loved ones or just as to add it to your collection.
Whatever the reason may be, you landed at the right place!
Honestly, I don't own this chess set but I'm a huge chess enthusiast. I did complete research to share with you all the best information along with the pros and cons of this chess set.
So without further ado, let's start!
USAOPOLY Game of Thrones Collector's Chess Set
The USAOPOLY Game of Thrones Collector's Chess Set comes with:
The chess pieces are made of resin and are beautifully designed based on the characters of the GOT. One side has the Westeros characters and another side has the white Walker characters. So you can choose which ever side you like and start playing the game with your friends.
Westeros Characters:
| | |
| --- | --- |
| GOT Characters: | Chess Piece: |
| John Snow | King |
| Daenerys Targaryen | Queen |
| Tyrion Lannister | Bishop |
| Tormund Giansbane | Bishop |
| Jaime Lannister | Knight |
| Brienne of Tarth | Knight |
| Drogon | Rook |
| Rhaegal | Rook |
| Unsullied | Pawns |
White Walker Characters:
| | |
| --- | --- |
| GOT Characters: | Chess Piece: |
| Night King | King |
| Viserion | Queen |
| White Walkers | Bishops |
| Horses | Knights |
| Giants | Rooks |
| Wights | Pawns |
Here's an unboxing video of the Game of Thrones Collectors Chess Set by CruznMJD Productions YouTube channel, which you can watch to get more idea about it.
Pros
Chess Pieces look beautiful
Great chess for a Game of Thrones fan
Includes a reference sheet
Foldable Chess board
Includes a storage box
Cons
Chess Board is made of cardboard.
Chess Pieces are lightweight
Final Verdict
Who Shouldn't get this chess set? If you are looking for a chess set that is based on the GOT characters and along with which you can play your regular chess games every now and then, then sorry, this chess set is not for you.
Personally, I think that this kind of themed chess sets are not tough enough to tolerate the daily chess games that you would play on a regular chess set.
For that, you should check out my guide on best chess sets for beginners.
Who Should get this chess? If you are looking to gift your son, grandson, mom, dad, your friend, or any of your loved one who is great of Game of Thrones Fan, or you are looking to add this to your chess set collection, or as a decoration to your home, then this is the best choice for you.
Check The Current Price Here! (On Amazon)
So that's it! Hope you liked reading this article as much as I liked sharing the information with you. If you found this article helpful then please do share it with other. Thanks and have a nice day 🙂
And you may also like to check out my other articles:
You May Also Like To Read: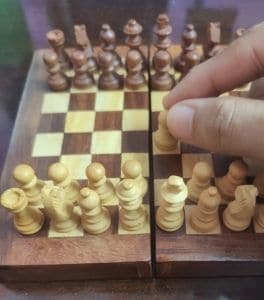 Hi! I'm Pritam Ganguly and I'm a huge chess enthusiast! I know the actual problems that chess players face. I created this site to make chess easy to understand for newcomers, and also to help players of all levels of ability to improve their chess-playing skills. Read more about me here.