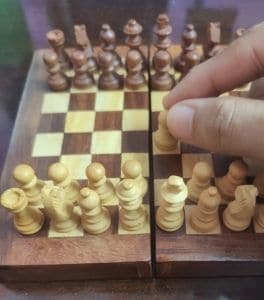 Pritam Ganguly is a huge chess enthusiast and the founder of Chess Delta. He likes to work on his website, provide valuable content to his readers and play chess with his younger sister in the meantime.
You can connect on Pinterest, Quora, Instagram, and YouTube.
My Story
I have fallen in love with chess since my early childhood playing with family members and friends. At that time, like most others, I pretty much played only on my instincts. I played mostly for fun.
But then, as I grew up I got more and more interested in chess. I started researching the history of the game, my own questions, and the questions that many other beginner chess players have.
Due to my research and chess knowledge that I was gaining daily, I felt like I needed a way to share some of this with the world and that's how I created this website, Chess Delta.
I also teach my younger sister to play chess and she is doing really great at this stage. Above is the image of the mini wooden chess board that I bought her and she's really excited about the game!
Why you should trust me?
Frankly speaking, I am neither a grandmaster nor a professional chess player but I am a huge chess enthusiast and a huge chess lover.
I play chess games with my sister and my friends whenever I can. Plus, I do research and learn many new things daily by reading chess books, articles and watching chess-related videos.
So here I share everything I have learned about chess and continue to learn in an easy-to-understand and friendly way!
I really enjoy doing the research and writing helpful articles answering your questions related to chess.
I love chess a lot and I also want that you love it too!
So if you are like me who is a chess lover, wants to learn and read many interesting, educational things related to chess, (and since you are reading this page right now means you are also a chess lover) then join hands because you are at the right place!
My goals
To make chess "Easy to understand for newcomers".
Also to "Help players of all levels of ability improve their chess playing skills".
To make this site "The Best Chess Guide Site" for you.