Chess Delta is an online platform to help those who want to learn chess and improve their chess-playing skills. Chess Delta teaches the readers various concepts of chess in a simplified manner.
Connect On!
Who Is Behind Chess Delta?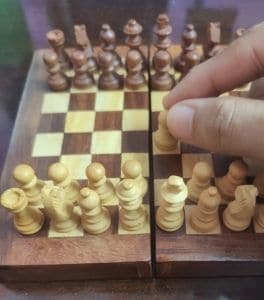 Chess Delta was started in the July of 2020 by its founder and main content creator, Pritam. Since then, the website is constantly providing valuable chess-related content to its readers.
What People Say!
Teaching my grandson (16) how to play chess. This guide is very good and easy to understand for him and me. Great work!

– One of the readers of Chess Delta
Readers Of Chess Delta
Visitors from around the world come to Chess Delta to learn about the various concepts of chess.
How Did I Start?
As a child, I (Pritam) started playing chess with my family members and friends mostly for fun. But as days went by, I got more and more hooked to chess.
I became so much enthusiastic about chess that in the July of 2020 I created Chess Delta.
My main motive behind starting this website was to learn more about chess and also share my knowledge with other chess enthusiasts. I am not a professional chess player.
But I read many chess books and articles. I watch several chess-related videos and also teach my younger sister how to play chess effectively.
So I use the knowledge and experience that I gain daily to improve this website and provide valuable content to everyone.
What will you find here?
You will find everything you would expect from a chess lover. No matter what you need, no matter what your doubts are, all will be resolved.
Here's what you'll learn:
I hope you find this site helpful, and I can have a positive influence on your chess learning process!

– Pritam the founder of Chess Delta