I am so glad that you found your way onto my chess basics series. Whether you are a kid, student, adult, or parent, whether you know a little bit about chess or not, I'm going to teach you how to play chess step by step.
Why you should learn from me? I'm a huge chess enthusiast! I taught my younger sister how to play chess along with the chess basics. So, I know exactly what are challenges a beginner would face. Also, how to overcome them in an easy way.
My goal with this Chess Basics guide is to simplify the process of learning chess for you. I hope you will love this guide.
How To Start?
In this chess basics series, each lesson builds the foundation for the subsequent lessons. Thus, clearing the basic concepts of chess in a step-by-step way.
If you start from the very beginning and read one by one all the lessons, then you will learn the chess basics in a natural flow.
But if you want to learn something specific, then you are welcome to skip ahead to a later lesson. Here's what I'm going to discuss:
Basic Equipment Required
The only equipment you need to start is a chess set. You can start playing chess even without any equipment. Yes, you guessed it, by playing online chess.
But I think if you want to learn chess properly and apply the knowledge then it is good to have physical chess set by your side.
You can check out my recommendation on the best chess sets for beginners.
Trust me, playing with a real chess board with real people has its own enjoyment and fun.
Now that you have your chess set and a clear road map of how you are going to learn chess, it's time to dive in on our first lesson.
You May Also Like To Read: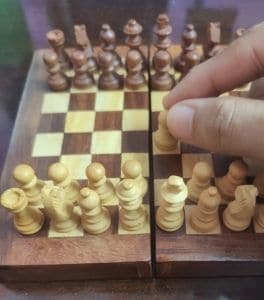 Hi! I'm Pritam Ganguly and I'm a huge chess enthusiast! I created this site to make chess easy to understand for newcomers, and also to help players of all levels of ability to improve their chess-playing skills. Read more about me here.