I sent an email interview request to National Master Sahil Tickoo and I would really like to thank him for accepting the interview request and sharing his thoughts.
Important note: Though the article might be short, it is valuable as it contains information from a real-life National Master Title holder. So if you are serious about achieving this title, please take some time (or even bookmark it for later reading purposes) and read this article till the end.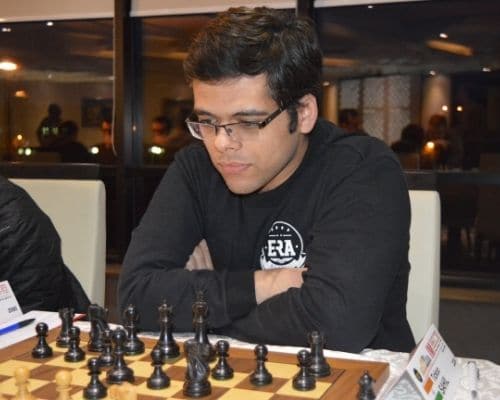 Before starting, let's have a quick introduction to NM Sahil Tickoo. He is a FIDE-Rated chess player. He has achieved the National Master Title. He is also on chess.com and on Chess Assist YouTube Channel.
Here's what NM Sahil Tickoo shared:
How to get the National Master title in Chess
The National Master Title is one of the 'easiest' titles to obtain once you start your journey on the path of chess improvement. It gives you credibility, satisfaction, and of course a lifetime membership on chess.com and other online websites. But more importantly, it is a sign that you are capable of bigger things in the field of chess and will be the confidence boost you need to reach there.
How to become a Chess National Master?
Unlike other titles, the National Master(NM) title doesn't require you to apply to any federation. It just requires that you fulfill certain criteria regarding your rating and that's it! However, one thing to keep in mind is that only a few countries issue the NM Title – One of the most common ones being the United States of America, where I got mine. You don't have to be a local player of the USCF(United States Chess Federation) to get it, you just have to play in tournaments inside of the US.
Conditions:-
USCF Classical Rating of 2200
I got the NM Title in 2016 when I played a few tournaments in the US, namely the Philadelphia international, the World Open, and the North American Open. At that time I wasn't even aware of the NM title and only got to know about it when I checked my USCF profile months later! And yes I was a paying member of chess.com during this time, duh!
How long does it take to become a national master and how hard is it?
If you were to start chess from scratch today, which might be the case for some, it could take you over two years of intense effort to reach this title. Now 2 years might feel a lot, but it's even longer if you are not practicing for hours and hours daily. That includes all-around development – Tactics, Openings, Middlegames, and Endgames.
The plus side is, that once you get here, you get the title for life. No one can take it away from you. Another point is that you are so close to the FM and IM titles already. And who knows, the next step might be GM!?
For the fastest improvement, I would recommend having a personal coach, that way you get to work on YOUR weaknesses and not just work on general improvement. If it's not feasible for you due to time or economical constraints, I can highly recommend structured online courses that can help you with all-around development. Chessbase has some amazing opening DVDs that I have personally learned a lot from, although chess24 is taking over the opening arena now, albeit their courses are much more expensive and out of reach for most. You can of course check out courses on chessassist.com that we have tailor-made based on our years of experience that will take your game to the next level.
What possible roadblocks will I face to the title?
Financial constraints are the number one issue for most chess players, especially in developing countries. Some players have to resort to crowdfunding to manage expenses to play tournaments in other countries. For the NM title that's a clear case in point as unless you live in the US, you will have to travel to the country to play the tournaments. That too after spending a lot for at least two years on coaching, books, and other resources. I can recommend taking the advice of a chess expert specifically before you start on this journey who can help you with how much would this journey actually cost you.
The second could be time. Maybe you are not a young kid going to school, you have a job, or a family to spend time with. In such a scenario, the goal will likely take longer. But remember, little improvement is better than no improvement, and working every day, even for a little while on your craft will go a long way to get the title of your dreams.
Conclusion
The NM title can be the starting point of chess mastery for some and the endpoint of chess training for others based on your priorities. But hard work is a common theme for both. Just playing online chess wouldn't get you there. Analyze your games after you play them, the study recommended books, and work regularly. One step at a time, your goal will come closer until you have two digits in front of your name that will stay there forever.
So these were the thoughts of NM Sahil Tickoo. That's it! If you really found this article helpful then please share it with others. Thanks!
Read Next: